© Provided by Daily Maverick 2018-11-28-if-you-think-sas-political-landscape-looks-dismal-try-the-deeply-seriously-flawed-united-states-of-america
Editor's note: The opinions in this article are the author's, as published by our content partner, and do not represent the views of MSN or Microsoft.
South Africans are used to existing in a state which feels a lot like perpetual crisis – as in our democracy is in peril, our party politics are uniquely uncivil, and our social fabric ready to tear irreparably at any given moment. Sometimes it's useful to take a break from our relentlessly anxious navel-gazing and take a look around. At the United States, for instance, where close observation of its mid-term elections reveals a pretty strange version of democracy indeed.
Imagine if South Africa introduced an electoral system where each province was given the power to determine who could vote, and which method they would use to vote.
Under this new system, perhaps the Limpopo provincial government would decide that Limpopo voters no longer needed to register in advance of election day. They might also decide that the requirement that voters have a valid ID book in order to vote was a cumbersome burden on the electorate. Instead, voters could simply sign an affidavit saying they were who they claimed to be.
In the Western Cape, meanwhile, perhaps the provincial government would come to the opposite conclusion: that voter registration requirements needed to be tightened to prevent voter fraud. That government could introduce the requirement that voters need to register six months in advance, producing not just photo ID but also proof of residential address.
The outcry, it's fair to say, would be deafening.
People would argue that it would be impossible to speak of any kind of equal, standardised democratic process happening under those circumstances – particularly if some provinces made the voting process much easier than others.
People would also argue that the process would inevitably be open to political manipulation because the party governing a particular province would set voting protocols designed to favour its supporters.
Yet this is exactly how the electoral system works in the USA, as I witnessed in October and November as part of a US State Department trip for international observers to observe American democracy in action, in the run-up to midterm elections and their aftermath.
It was not a propaganda tour. We – politicians and journalists drawn from 48 different countries – met with Republicans and Democrats, academics, analysts and journalists, dined in the homes of ordinary Americans and visited high schools to speak with students. We visited red states and blue states, observed voting, and watched the relentless churn of the cable news channels.
And by the end of it? Many of us had come to the conclusion that America's version of democracy was deeply, seriously flawed – even in comparison to our own benighted homelands.
Know what's happening in your world. Join the MSN WhatsApp channel today.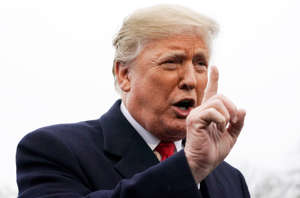 © REUTERS/Jonathan Ernst U.S. President Donald Trump answers a question from a reporter as he departs the White House for travel to Mississippi in Washington, U.S. November 26, 2018. REUTERS/Jonathan Ernst
In the American electoral system, each state is given the power to decide autonomously how to run elections. The documents you need to prove your identity in order to vote differ from state to state. In at least 20 states, you do not need to present any documents to prove your identity. In others, you can use a document such as a bank statement. And in others, you require a government-issued photo ID.
In some states, you can rock up on election day and vote without any prior registration. In others, you must register to vote weeks in advance.
Some states use electronic voting machines; some states still use paper ballots. In some states, like Colorado, almost everyone votes by mail – and pays for their own ballot postage. Members of the military who are posted overseas can sometimes vote by email.
Americans we spoke to seemed to accept this system as an unremarkable feature of a continent-sized country where sovereignty is shared between federal government and each state's government.
And indeed, it would be possible to write it off as a quirky aspect of a complex political system – were it not for the fact that there is abundant evidence that the leeway given to states to run elections can result in decidedly problematic practices.
Also read: Internet thinks Melania's White House Christmas decorations are spooky
In North Dakota, for instance, a Republican campaign dating back to 2013 came to fruition in October 2018 – just weeks before the mid-term elections – with the introduction of a new voter ID law requiring North Dakotans to produce identification showing their name, birth date and residential address in order to be required to vote.
The group disproportionately affected by this new requirement were Native Americans, who tend to use P.O. boxes rather than residential addresses. Native Americans also tend to vote Democrat.
One African delegate on my trip was shocked and confused by the lack of visible police or soldiers at the polling stations we visited: this would be unthinkable in his country, he said. But in America, politicians don't need to use violence or intimidation to keep people away from the polls. People can be prevented from voting – or at least disincentivised from voting – through perfectly legal means.
Here's another little oddity of the US electoral system. In most states, the chief electoral official is the secretary of state – which is a political position most commonly filled through elections. Those are the same elections which the secretary of state is responsible for administering.
The potential conflict of interests at play is jaw-dropping – and came to a head in Georgia before the midterms, where Republican secretary of state Brian Kemp aggressively purged the voters' roll ahead of an election in which he was standing as governor. About 70% of the voter registrations which were struck off, on the basis of a technicality, were African-American. Kemp won his race – against African American Democrat Stacy Abrams – by 1.39% of the vote.
Indulge me a little further. On some states' ballot papers for the 2018 midterms were not only politicians, but also judges. That's because in a number of US states, judges are elected to their position by voters, and appear on the ballot paper alongside their political party affiliation.
It's a system that almost defies belief, because the reasons why it is not a good idea to make judges vie for public approval are surely patently obvious. In terms of the system, judges have to raise campaign funds, make campaign promises and air them in campaign ads – like politicians. Law firms often fall over themselves to make campaign donations – in the unspoken but obvious hope (or expectation) that the judge candidate in question will treat their lawyers with greater favour in the courtroom once elected.
Because harsh sentences tend to win public approval in certain – usually Republican – states, there's also a perverse incentive for judges to start tailoring their verdicts in the run-up to elections. One study found that judges handed on average 10% longer criminal sentences, a huge number, when they were about to face re-election.
Also read: He Says He Got Away With 90 Murders. Now He's Confessing to Them All.
I haven't even mentioned gerrymandering – the well-documented practice whereby political districts are redrawn every 10 years, usually to benefit the party in power at the time. Also, the rural areas are favoured in the US Senate: the small and sparsely populated states like North and South Dakota, which together have 1.5 million citizens between themselves, have twice more senatorial power than California (40 million).
All in all, Democrats won the 2018 popular vote by a whopping 53% t0 45% and still were not able to win control of the Senate.
I also haven't mentioned the USA's approach to campaign financing, which permits effectively unlimited amounts to be spent on a candidate as long as it is done through a political action committee (PAC) rather through the candidate or the party itself.
More than $4-billion was spent on campaigning for the 2018 midterms. And a clear correlation has been found between the amount spent and the successful candidate: more than 90% of the time, the candidate who is able to raise the most money wins.
Much of the money is spent on producing attack ads, broadcast in interminable succession on US TV as the elections draw near. Because of the US Communication Act's "no censorship" provision, these ads are permitted to contain extraordinary and sometimes shockingly false claims about political opponents without being subject to the usual truth-in-advertising regulations that apply to commercial ads.
If the same applied in South Africa, to put this into context, the EFF could produce a TV ad containing their false claims about Pravin Gordhan's daughter which outlets like the SABC would be legally required to run as often as the EFF could afford.
It is a decidedly fraught time for South African democracy at the moment, and you can expect the political climate to reach yet more fevered temperatures before the 2019 general elections arrive.
But every now and then, it's worth reminding ourselves: South Africa's problems are not unique. Our politicians are not uniquely corrupt, our political system is not uniquely flawed, and our political discourse is not uniquely uncivil.
And on paper, at the very least, our electoral system makes a hell of a lot more sense than that of the country supposed to be the world's greatest democracy. DM
Most democratic countries in the world (Provided by MSN)